Summary
- What makes Slashscore unique?
- What is the scope of Slashscore?
- How does Slashscore work?
- What features will be added to Slashscore in the future?
Slashscore is an innovative platform that bridges the gap between skilled software engineers and tech recruiters. On one hand, the platform enables software developers to perform self-assessments, by gathering all the relevant information in a single place in a well-arranged manner.
On the other hand, tech recruiters can rely on Slashscore to filter exactly the tech criteria that are relevant to their company size and hiring needs. It only takes a quick glance at a software engineer's Slashscore profile to understand the areas of expertise, level of experience, coding preferences, work values, tools of the trade, and spare time hobbies.
What makes Slashscore unique?
While one can argue that two developers can be extremely similar, Slashscore means to bring to light exactly the unique aspects of each of them. When not working exclusively on private projects, software engineers leave a digital footprint that can be quantified. By measuring this digital footprint, they can get an idea of areas where they shine, as well as discover fields that could use improvement. Ultimately, Slashscore can help them land better jobs.
Slashscore uses machine learning to find patterns that are generating fair scores based on people's effort on the projects they are working on and it's build using the latest technology tech stack, which includes React and NodeJS. Also, it uses a flexible serverless architecture that enables Slashscore to easily adapt to the complexity of all possible integrations.
What is the scope of Slashscore?
OBJECTIVE EVALUATION & UNDISPUTABLE RESULTS
For developers - assist them in self-assessments, by having all the info in one single place in a well-arranged manner to give them real leverage in discussions with recruiters and technology partners.
For tech recruiters - relevant tech criteria to match their company sizes and hiring needs.
How does Slashscore work?
Our platform relies on AI to analyze and combine the activity of software developers on websites that are relevant to their profession. The current integrations include:
GitHub
Gitlab
Stackoverflow
Meetup
Medium
For the time being, Slahscore will only take into account the public repositories hosted on GitHub and Gitlab when calculating the professional score. Stackoverflow, Medium and Meetup, on the other hand, are used for calculating the extra score. The community score is based on reviews received from peers, supervisors and even customers.
Software engineers who join Slashscore will have immediate access to the following screens:
Home feed

Profile visibility status
Score listing including scores improvements
Contribution board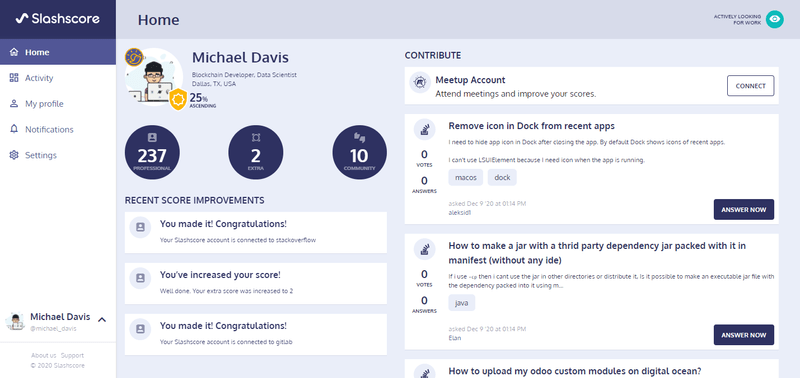 Activity dashboard

Score History
Profile ranking
Rank-based profile comparison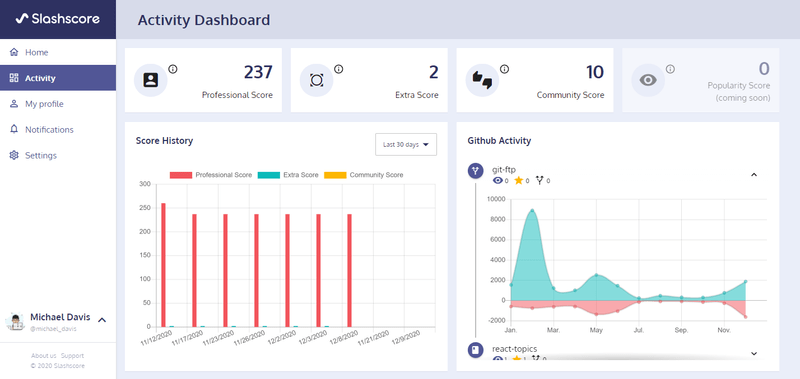 My profile

Personal information
Experience
Education
Coding preferences
Work values
Collaboration tools preffered and many others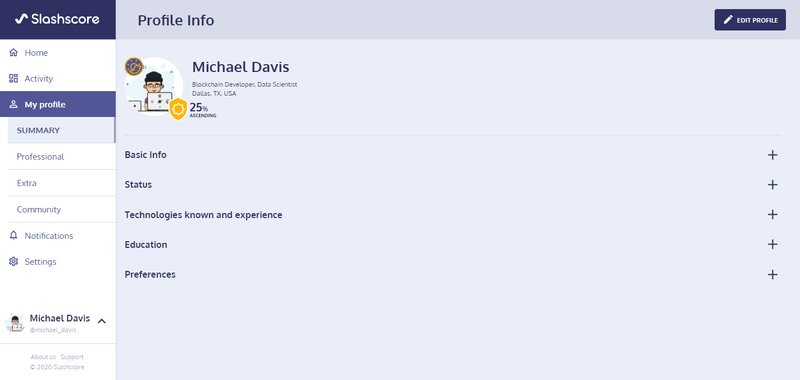 Slashscore will continue to evolve and the app will expand to include multiple other features. The users of the app have the option and are even encouraged to provide feedback on their experience, so that Slashscore can accommodate their needs better.
JOIN US ON SLACK
Along with this release we've created a Slack group for all the developers who have joined our early adopters' list. Please join HERE.
In this workplace you can share your experience with Slashscore as well as ask for help if you encounter any problems while using it. It's also the place where you can chat away with fellow Slashscore fans from all around the world.
We will also take notice of any useful feedback you share in #slashscore-feedback so that we can continue to improve our product.
What features will be added to Slashscore in the future?
Here are some of the features that you can expect to see in Slashscore soon:
Bitbucket integration
Popularity score
Private repositories taken into account for the professional score
Slashscore API
Code analysis
and many others.
Along with GitHub and Gitlab, Bitbucket is a popular repository hosting service that is used by thousands of software engineers on a daily basis.
The option to add private repositories on all the aforementioned hosting services will further expand the scoring capabilities of the platform without exposing any confidential information. The popularity score will be based on social media presence combined with the demand for the technologies used by software developers.
Whether you are a software engineer who is looking to land his/her dream job or a tech recruiter who wants to hire the company's next brilliant developer, using Slashscore will bring you closer to your objective. Join Slashscore today to be part of the world's next tech recruitment revolution.
Visit our Slack chat group to let us know how we're doing and what improvements you'd like us to prioritize!